Formed five years ago by New Brunswick filmmaking trio Jon Dewar, Matt Rogers, and Rob Gray, Frictive Pictures has gained a reputation for bringing together the best of local talent to create stunning films, such as their award-winning shorts Choke Hold, A List, and The Beautifully Drowned. Their films have gathered praise and attention from the festival circuit, achieving best picture at Silverware Film Festival and the Tampa Bay Underground Film Festival among others. Frictive seeks to make films that challenge assumptions and provoke discussion. They take a leading role in the Fredericton film community, and, through their not-for-profit Frictive Projects, also produce such events as the Fredericton 48-hour Film Competition, the Pink Lobster Film Festival, and the What's Up Doc? film production program in Anglophone School District West.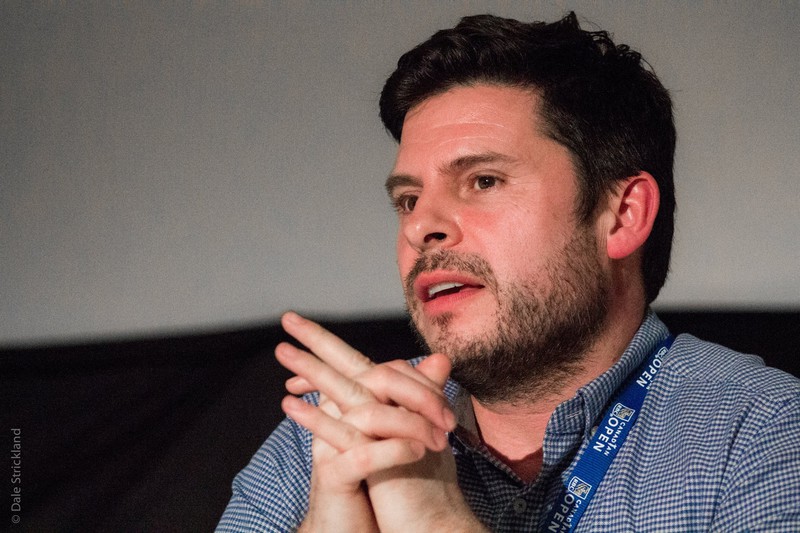 R. W. Gray is a filmmaker and author whose short films have been screened around the world. He wrote and directed "zack & luc," "Choke Hold," and most recently directed an adaptation of Newfoundland writer Jessica Grant's "My Husband's Jump." He also makes more experimental shorts, such as his films "Aidos" and "3 Cafés."
He is a screenwriter and has had over ten short scripts produced including the award-winning shorts ""alice & huck" and "Blink" and more recently the short film "Chiaroscuro," adapted from one of his short stories and directed by Amy Bourgaize.
He is a senior editor of numerocinqmagazine.com, and is chiefly responsible for "Numero Cinq at the Movies," the monthly film column. He has written two books of short stories, Crisp (2010) and Entropic (2015) and is a professor of film and creative writing at the University of New Brunswick.
Jon Dewar is a Canadian filmmaker and co-owner of the New Brunswick-based production company, Frictive Pictures. The company has produced over fifteen short films. Jon's latest film, The Beautifully Drowned – an eerie seaside fairy tale about a woman trying to escape a ritualistic and repressive community – was awarded Best Short Film at both the Silver Wave Film Festival and the Tampa Bay Underground Film Festival. His film has also won awards for Best Actress, Best Screenwriting, Best Cinematography, Best Costume Design, and Audience Choice. The film was adapted from R.W. Gray's collection of short stories, Entropic. Jon was the film's director, screenwriter, and editor.
Jon is currently producing R.W. Gray's feature film Entropic, which has received the Telefilm Micro-budget grant from Telefilm Canada. He will also take charge editing the project. Most recently, Jon edited and produced R.W. Gray's short film, My Husband's Jump.
Jon has also directed short films such as Hypothermia, Mirage, and Optometry. He will be directing his next short film, The Wonderful Future, in the fall of 2018. Jon edited and produced R.W. Gray's short films Choke Hold, Aidos, and Zack & Luc and took on the roles of producer and director of photography for Matt Rogers' A List.
Along with filmmaking, Jon works in Fredericton, New Brunswick as a teacher and freelance filmmaker. He has been involved in organizing Fredericton's 48 Hour Film Festival and the public school-based filmmaking program, What's Up Doc?.
Matt Rogers is an Atlantic Canadian Filmmaker and an Assistant Professor in the Faculty of Education at the University of New Brunswick.
His research focuses on youth-centered participatory filmmaking, and documentary inquiry as a knowledge mobilization tool. As a filmmaker, his primary interests rest with directing documentary and cinematography.
His narrative film work with Frictive Pictures has been internationally recognized with awards and nominations in cinematography, editing, writing, and direction. His last short film, "a list" (writer/director) was awarded Best Short Film Director at the Global Cinema Film Festival of Boston and appeared on the CBC program "Reel East Coast" in September 2017.